The importance of good pallet rack design
While some will tell you that pallet rack is pallet rack, expert warehouse managers would disagree. In fact, professionals in distribution management insist that quality pallet rack, designed properly, will increase productivity and add significantly to your bottom line.
Increase storage and available warehouse space with pallet rack
Distribution companies have two problems: labor and space.
Interestingly, these two problems are deeply intertwined; when you fix one, the other presses forward more significantly. This is why designing pallet racks to achieve both goals of space efficiency and labor efficiency is key.
In a busy distribution environment, adding hard-working, industrious people will help you pick orders in a timely manner. But if your storage design is not optimal, your hard-working employees will not hit their productivity numbers. Time can be wasted in traveling to the pick location and searching for the product to pick. Time is consumed bending, leaning, reaching, and moving product. If not enough product is on hand, time spent replenishing and reorganizing is wasted.
As your operation grows – either through order volume or SKU growth – the warehouse design that worked five years ago will start to make you question the decisions you made early on.
Review your warehouse design every five years
When planning a warehouse, focus on solving the labor and space problem for five years to come. For example, you might have a goal to store 5,000 pallets and you might be considering different aisle sizes based on the space available.
By using the Leam Materla Hanlding square footage calculator you have determined that you will need at least 109,000 square feet to store the pallets you need to store using sitdown forklifts in a wide aisle design. Using the five-year plan, you will want to add 30 per cent to your storage-space requirement to ensure you have enough space to marshal consolidate, and stage inbound and outbound loads. Therefore 109,000 square feet of storage space becomes 156,000 square feet of distribution space.
And then you need to consider growth over the coming five years.
Sales growth of 15 percent means 200 percent warehouse space growth
What is your growth rate? What does your sales department say the growth rate will be? If 15 percent growth is possible, then the space you need today will be half of what you need in five years. Said another way, you will need twice the current space in five years if the growth rate is 15 percent compounded. Planning for five years from now is necessary if you do not want your distribution design to become the limiting factor in your company's growth.
Consider your design options: wide aisle, narrow aisle and very narrow aisle
Part of your five-year distribution plan might be to narrow your warehouse aisles so that you can use narrow aisle forklifts (NA), such as reach trucks. Doing so can reduce the space requirement for 5,000 pallets to 90,000 square feet, saving 20 percent of the space. Further, space-saving would involve using very narrow aisles (VNA) and using swing reach turret trucks or deep reach trucks. The space requirement for VNA or Double-deep Deep Reach trucks would reduce to 75,000 square feet – saving 32 percent in valuable floor space.
The reduced footprint would also reduce the labor component of the warehouse by bringing the product closer together. That means the time to access the product would be decreased. Less space means less labor. Less labor means less congestion in the aisles which would mitigate the need for space.
Why are there so many styles of storage?
Pallet rack styles vary for a reason. Efficient warehouses use various storage media. Using a single type of rack in the warehouse might be the most inefficient design possible.
On the surface, a warehouse designed only with roll-formed, single selective rack might seem elegant and flexible. Someone might be heard saying, "with single selective rack, everything is interchangeable, we can move levels and rows easily." You might even be inspired by the wisdom of the concept. However, before you jump into ordering beams and frames, please allow us to explain the available rack configurations, uses, designs and profiles.
What are the different types of pallet rack?
Pallet racks and storage racks come in various configurations and styles. Below is a guide for the various rack profiles, configurations, shapes and sizes.

Roll form pallet rack is made of flat-rolled steel, which is bent then welded (or bolted) into shapes that give it shape. Roll-formed rack is a good value as it derives its strength from its shape, which means less steel is used than in structural pallet racks. Various rack profiles are available in roll formed racking. The shape of the holes can be square, teardrop, and keyholed.
Notice the vertical spacing between the holes in the face of the upright frames. This distance determines whether the beam will fit.
To buy roll-formed racking components, click here.
Structural pallet rack is composed of structural steel, which is made of reinforced channels. Structural steel is thicker and employs a stronger construction than what's found in other rack designs. Structural pallet racks are sturdy and more impact resistant than roll-formed steel. Structural pallet racks use bolts as connectors and sometimes are welded.
Look for the round holes and the four-inch centers. To buy structural racking components, click here .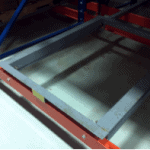 Push-back rackingmoves pallets forward by using the force of gravity on wheeled carts. This type of rack is similar to taking milk or beer out of the refrigerator at the grocery store and the other containers slide forward to replace the item you removed. Similarly, when a forklift removes a pallet, the pallet behind the removed pallet moves forward to take its place. Many different cart designs can be ordered to fit your needs. Push-back racks are best used for inventory that has an expiration date because it reduces the need for labor when replenishing a pick slot.
To buy new push back racking click here and used push back racking, click here.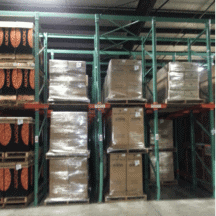 Drive-in racking uses rails to support the edge of the pallets in deep lanes. Forklifts drive onto the racking to retrieve the pallet, then backs out with the product. Drive-in racking is often used to store high turnover inventory or to stage outbound or inbound loads. Drive-in racking is a good storage choice for identical SKUs products or for products destined for the same over the road transportation.
To buy drive-in racking, click here.
Pallet flow rack uses multiple frames to support beams that use wheel tracks, which convey pallets to the front of the rack. The pallets are loaded at the back of the lanes, then gravity allows other pallets to roll forward using gravity. Pallets are removed at the front of the rack.
Pallet flow is a good storage option for a large number of pallets of the same SKU. Many distribution centers use pallet flow racking to store fast-moving pallets for outbound staging.
To buy pallet flow racking, click here.
Cantilever racks use large bases attached at right angles to vertical spines, which support horizontal arms. The bases, upright spines and arms create a supporting structure for long loads. Cantilever racking comes in roll form and structural constructions.
To buy cantilever racking components, click here.
Tire storage racks are made from roll form racks using narrow frames with light gauge beams. Often the racks are shorter due to high pile storage permits and fire suppression concerns. Check with a fire engineer for the rules around storing highly flammable products about six feet.
To buy racking components to store tires, click here.
Wire spool storage racks can be made from roll form or structural racking components. Specially designed beams that connect to both the front and rear side of the upright frame allow spools of wire to be stored on steel spindles. This type of storage allows for wire to be dispensed without removing the spool.
To buy wire spool storage racking kits for roll form and structural racks, click here.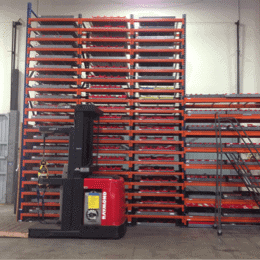 Small components high bay racking use light gauge beams in tall racking, allowing you to create a very efficient storage unit for very small parts. To gain labor efficiency, an electric orderpicker can help move the operator to the pick location more quickly than a rolling ladder.
To buy small components racking, a rolling ladder or an orderpicker, click here.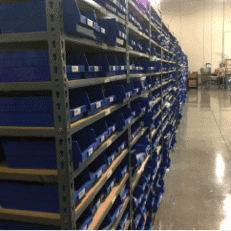 Small parts shelving is a racking category that includes boltless shelving, steel shelving, longspan, low profile, and record box storage shelving. When used in combination with totes, the shelving makes for a relatively inexpensive storage medium.
To buy steel shelving online, click here.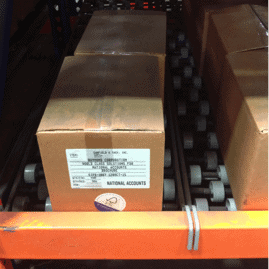 Carton flow is racking that has an inclined surface on which cases of product roll on wheels toward the picking aisle. Gravity moves the product from where it is loaded in the back toward the front where it is picked. Various styles of carton flow and case flow are available.
To buy carton flow racking online, click here.
How to identify pallet rack profiles
To determine the type of pallet rack that is currently in your facility, look at how the beams fit in the frame. This will assist you when ordering pallet racking from a manufacturer.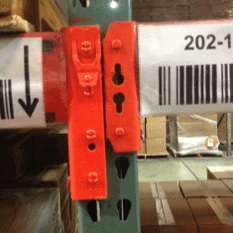 This is the most common profile of roll-formed rack. Look for the pear-shaped holes on the upright frame at two-inch centers. Also, notice whether the tie and diagonals are welded or bolted. Finally, the width of the face of the frame and the depth of the front and back post are important dimensions.
To buy welded upright frames and beams compatible with tear drop Interlake style profile racking, new or used, click here.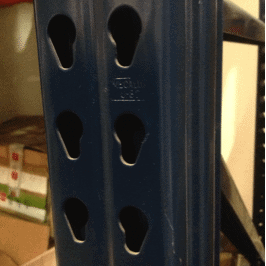 This is a popular style of racking, which uses bolts instead of welds. Interlake, Mecalux, and Cresswell all manufacture this type of racking. Be careful with integrating beams designed to work with welded frames into bolted upright frames. The face is wider and therefore makes for a snug fit when hanging beams from the tear drop holes.
To buy bolted upright frames and compatible beams, click here.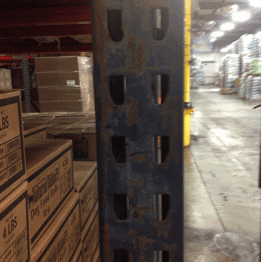 Interlake new style tear drop style welded roll formed racking was introduced by Interlake. This new style of frame is backward-compatible with "old-style" tear drop beams. The frames have holes that are angular and boxy. This style of racking has been discontinued and is only available for purchased used.
To buy used welded "new style" upright frames and beams compatible with tear drop Interlake style profile racking, click here.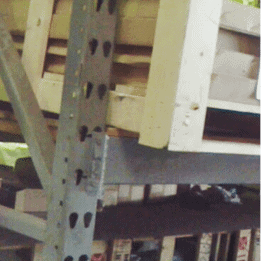 Sammons style tear drop style welded roll formed racking looks very much like Interlake tear drop style rack. However, instead of two-inch centers between holes on the upright frame face, the Sammons style frame has four-inch centers.
Hannibal industries offers this style of racking profile for companies needing additional components.
To buy Sammons style upright frames and beams, click here.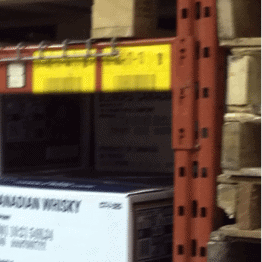 Redirack style roll formed racking is by far the most popular rack profile in Canada. Therefore, many Canadian companies doing business in the United States use Redi Rak.
To buy Redirack style upright frames and beams, click here.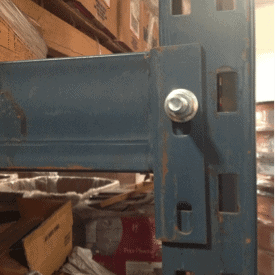 Unarco T-Bolt style roll formed racking offers a front-end-only connection that saves valuable racking installation time. The T-Bolt head simply inserts through the beam connector and column. A one-quarter turn of the T-Bolt locks it into place. The nut is tightened from the front of the T-Bolt punched upright. There's no need to reach inside the column.
To buy Unarco T-Bolt style upright frames and beams, click here.
Republic style roll formed rackingis also referred to as keystone racking. Although Republic rack is less commonly found in warehouses today, used republic rack may still be found.
To buy used republic keystone style upright frames and beams, click here.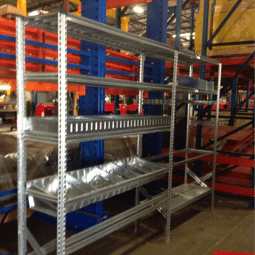 Metalsistem folded boltless shelving is a pre-galvanized steel shelving system that features boltless construction and a sleek, modern look. Metalsistem shelving units are used for commercial jobs as well as retail.
To buy Metalsistem boltless shelving, click here.
The construction basics of pallet rack
Pallet rack beams come in three different types:
Structural
Roll formed
Hybrid (a combination of structural and roll-formed)
They are all adjustable on two-inch centers. Pallet rack is designed to store pallets or skids in horizontal rows on multiple levels.
The most cost-effective way to ensure that your pallet rack has a long life is to use a powder coating. Powder coating shields the rack by providing 60 percent greater resistance to solvents that might be used in your warehouse. It also provides 74 percent higher resistance to salt sprays, and 94 percent more impact strength.
How to determine the depth of pallet rack needed
Pallet rack beam capacity is based on the pallet load being on top of both the front beam and the back beam. When determining the pallet rack depth you will need, it is best to overhang the pallet in both the front and the back. Standard 48-inch pallets are best supported on standard 42- or 44-inch pallet rack uprights.
Commonly asked pallet racking questions
Can wire decks compensate for the difference in pallet depths?
No. Wire decks are strictly a safety product. They are not designed to carry any pallet weight. A pallet that sits on a wire deck and is only supported by the front or back beam can cause the wire deck to fail.
Can I use 48-inch deep uprights?
Yes. Properly loaded 48-inch deep uprights will sufficiently carry the load of a 48-inch pallet.
Can I use 36-inch uprights?
No. Standard four-way pallets are notched for four-way access. The notch will catch one beam and set your pallet off balance.
If you need consultation on constructing a pallet rack system in your warehouse or facility, we can help. Email our rack experts at info@palletrackguru.com.