Definitions for standard adjustable pallet rack
Terminology as it pertains to standard adjustable pallet rack. See the definitions of key components below as illustrated in this exploded view of standard adjustable pallet rack.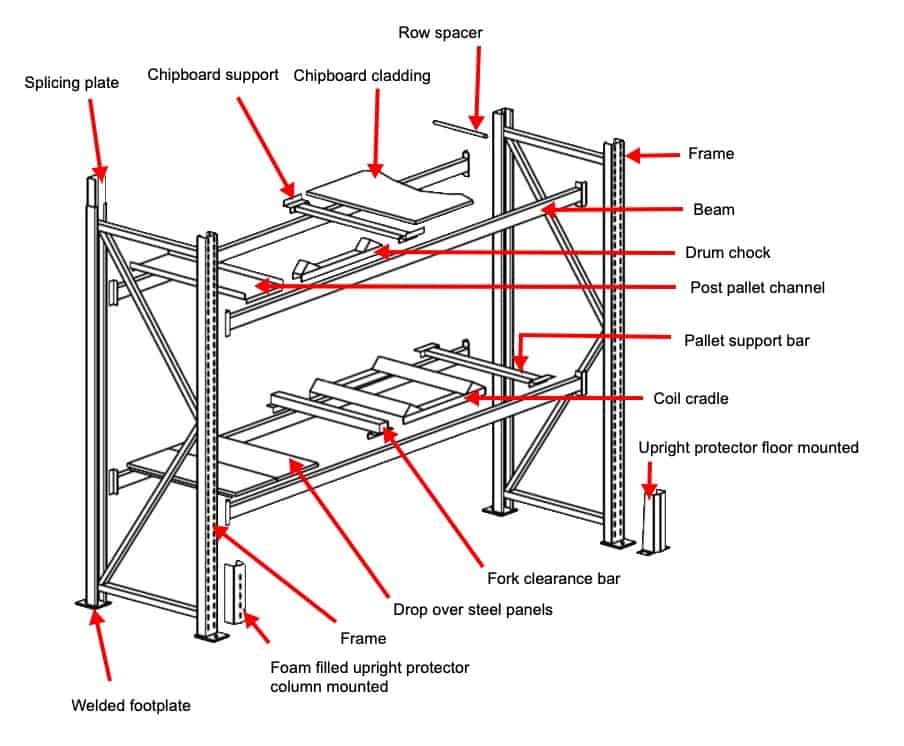 Chipboard cladding – Chipboard sheets that act as a horizontal floor on a pallet rack bay.
Chipboard support beams – These appliances hold chipboard in place.
Coil cradle – Also called Coil Beds, they are are designed to fit on pallet rack systems to store drums safely.
Drop over steel panels – These are steel panels that provide a level surface for storing non palletised product on the pallet racking system.
Drum Chock – This is a racking accessory that stops stored drums from rolling.
Forklift clearance bar – A fork or forklift clearance bar make placing  items on your pallet rack beams safer and easier. These are used when you are storing non-palletized inventory with a flat bottom on your pallet rack. Since there isn't a pallet, and the inventory is flush with the beams, forklifts can't get underneath the load to pick it up. So the fork clearance bars lift the flat stock up a few inches off the beam to create space.  This allows the forks to pick the inventory up.
Frame – This is the steel skeleton of the pallet rack and consists of beams and columns.
Pallet support bar – These are used to create  a support surface for pallets and stillages (product containers). They are attached to beams across the frame depth.
Row spacer – These secure uprights together in a back to back row. They add stability to  pallet rack. They also keep it consistently spaced. Row spacers are an accessory item for pallet rack. They are used to securing back-to-back rack rows of selective pallet racking.
Splice kit – These join two uprights together to form a longer upright. Splice Kits can be used where the full length upright may not be available and 2 shorter uprights of suitable strength are available. A Splice Kit generally consists of:
Splice Plates: Splice plates are pieces of steel that conform to the inside profile of the upright.
Bracing Blocks: Bracing blocks sit in between the splice plates to ensure a snug fit.
Nuts and Bolts: These are include to hold the entire kit together.
Upright protector  – floor mounted – This rack protection appliance is designed to absorb collisions energy before a truck makes contact with rack frame.
Upright protector – column mounted – This rack protection appliance is attached to columns. They are filled with foam and is designed to absorb collision energy.
Welded footplate – This footing is welded to the frame and is bolted to the floor.